El virtuoso guitarrista Joe Satriani presenta Shockwave Supernova, su decimoquinto álbum de estudio y primero para Legacy Recordings. Con 15 temas totalmente nuevos, Shockwave Supernova es el clásico Satch con giros sonoros que serán referencia para sus fans de todas las edades.
Joe Satriani es uno de los guitarristas de rock instrumental más influyentes y respetados de las tres últimas décadas, un «músico de los músicos» que fue contra corriente con una música sublime y compleja al mismo tiempo, llegando así a variados y diferentes gustos.  En 2014, Satriani lanzó Joe Satriani: The Complete Studio Recordings, la más reciente y digitalizada colección de todo su catálogo. Además, Strange Beautiful Music: A Musical Memoir, autobiografía de Satriani, también fue lanzado como anexo a la colección completa.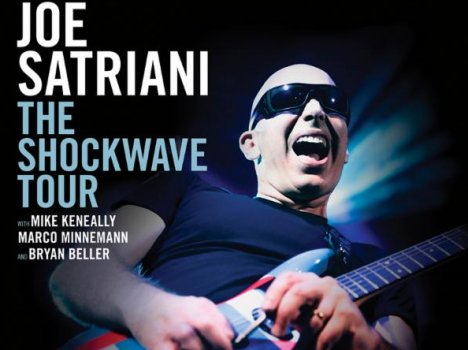 Durante su carrera, Joe Satriani ha obtenido 15 nominaciones a  la Mejor Actuación de Rock Instrumental en los premios  Grammy, entre Platinum (Surfing With The Alien, Flying in a Blue Dream) y Gold (Surfing With The Alien, Flying in a Blue Dream, The Extremist, Time Machine) por sus grabaciones en solitario. También logró los premios Gold y Platinum por su DVD  Live in San Francisco y 2 DVDs de G3, G3 Live y Live in Denver.
A finales de septiembre y principios de octubre, tendremos la oportunidad de ver en directo a este genio de la guitarra eléctrica. Una ocasión única.
Miércoles 30 de Septiembre – SAN SEBASTIAN. Auditorio Kursaal  
Jueves 1 de Octubre – MADRID. Circo Price
Viernes 2 de Octubre – BARCELONA. Sala Barts   
Red de venta: www.riffmusic.es
Más info en: www.riffmusic.es | www.satriani.com