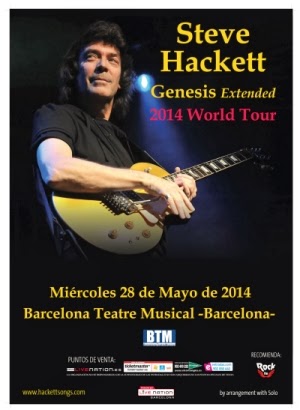 El legendario guitarrista de Genesis, Steve Hackett, visitará España con un único concierto en Barcelona, el próximo miercoles 28 de mayo en el BTM – Barcelona Teatre Musical con su gira GENESIS Extended 2014 World Tour.
Su pasada gira y álbum "Steve Hacket Genesis Revisited" tuvo una fantástica acogida por la crítica y fans, está claro que había un apetito por estos grandes clásicos. El pasado mes de mayo de 2013 Steve Hackett y su banda agotaron todas las localidades de sus conciertos en el legendario Hammersmith Apollo de Londres.
Steve Hackett comentó: "Con ambos, la gira Genesis Revisited y el álbum, siento que he dado a la gente lo que realmente andaba buscando desde hace mucho tiempo".
Él y su banda estarán deleitándonos con sus grandes temas cómo: The Lamia, Dance on a Volcano, Supper's Ready, Dancing with the Moonlit Knight y muchos más de los clásicos de la época dorada de la gran banda Genesis. ¡No te pierdas esta única oportunidad!
Las entradas están a la venta desde el 13 de febrero a partir de las 10 am y solo a través de los puntos oficiales:
www.livenation.es
, ticketmaster, El Corte Inglés y entradas.com
Precios: De 40€ a 75€ + gastos