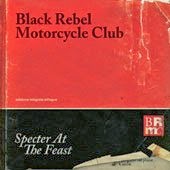 Estamos de enhorabuena. B.R.M.C.
actuarán en Madrid
el próximo 15 de julio en la conocida sala La Rivera. Las entradas ya están a la vetna desde el pasado día 2 de abril a través de
www.livenation.es
las entradas para el concierto hasta las 10 am del jueves 3 que se pondrán a la venta general también en
www.ticketmaster.es
Los californianos son una de las formaciones más importantes del rock de la última década, herederos del pre punk de The Stooges o de la oscuridad del post punk de The Jesus & Mary Chain pero sazonados con sal gorda sacada del delta blues del Mississippi y la aridez melódica del folk oscuro de Guthrie, hermanándose así con compatriotas como The Black Keys, Jack White o White Denim.
Black Rebel Motorcycle Club son autores de discos clásicos como «B.R.M.C.», «Take Them On, On Your Own»,»Beat The Devil´s Tattoo», Baby 81″ o 'Howl'. En Madrid presentarán su último gran disco "Specter The Feast" (PIAS,2013) que contiene el single "Hate the Taste» de fama mundial por ser parte de la banda sonora de Assassin's Creed IV: Black Flag .
Si lo tuyo es el rock intenso, ácido, sucio, shoegaze distorsionado y de raíces americanas ya puedes ir sacando brillo a la chupa de cuero ya vengas en la moto o en skateboard para ver uno de los mejores directos de ahora mismo en 15 de Julio en Madrid siendo también uno de los cabezas de cartel del 101 Sun Festival de Málaga, 11 y 12 de Julio.
B.R.M.C. son: Robert Levon Been (Bajo y Voz)), Leah Shapiro (Batería y Voz) y Peter Hayes (Guitarra y Voz).